Partnered Yoga getting ready for baby: Connecting birth partners through pregnancy, labor & delivery
This workshop will help strengthen the bond between birth partners and the baby to be. Partners will learn different ways to assist loved ones with hands-on comfort measures ideal for labor and delivery. We will explore elements of prenatal partner yoga, prenatal partner Thai massage, reiki, and breathing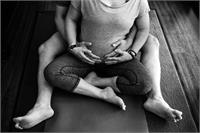 techniques to deepen relaxation and connection throughout pregnancy and the birthing process.
It is preferred that the mom to be is further along in her pregnancy for this workshop (late second trimester to due date) so that the tools you gain in this workshop stay fresh in your mind and can be recalled easily when the time comes!
Together we can help to eliminate the fear that surrounds the birthing process, replacing it with calm confidence – surrendering with love & trust, that this process will unfold exactly as it's intended to.
Sunday, May 5th
1:00pm – 3:00pm
$50 + GST per couple
with Shantelle Durocher
Call 780.960.0868 to reserve your spot.